Haircuts are more than just shelling a few hair strands into the dustbin. A good haircut must make your hair feel good and breathe in a new vibe because good haircutting takes more than adjusting the length. Haircuts are also about shape and texture that you may give your hair with a hair cutting scissors set or seek a professional's help. Hairstyling incorporates a variety of equipment, from combs to scissors. However, which scissor is suitable for which task confuses many people.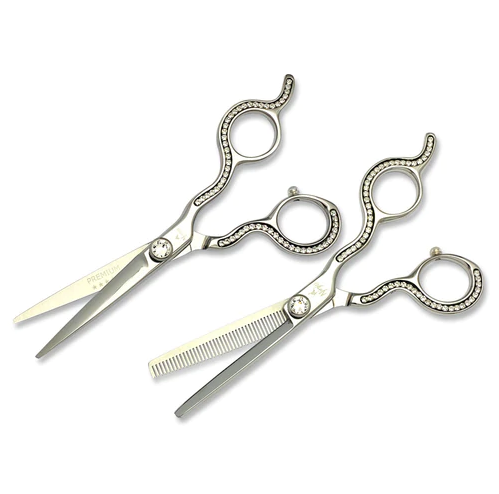 What are Texturizing Scissors?
Hairstylists often encounter customers who cannot chip in the hairstyle idea right into your mind with just words. So, they do a series of hand gestures to describe the bouncy fall they require from their new hairstyle. It makes texturizing scissors a must-have tool for all hairstylists. Texturizing series adds volume and texture to your hair. These wide-gapped scissors have significantly fewer teeth and can sometimes find used as thinning scissors.
On Which Hair Type Should You Use Texturizing Scissors?
Ideally, texturizing scissors are suitable for application on thick hair; however, you can also use them on fine hair with a bit of care. For instance, for removing unwanted hair, cut along the end edges of the hair. This technique will remove weight and create a beautiful texture. Using texturizing scissors need some practice, and when you have gained enough know-how in your lap, it is time to start your hairstyle bonanza. Nevertheless, having a few techniques in hand will keep the beginning edgy and classy.
Techniques to Add Texture to Hair
Texturizing is a technique of cutting hair in a manner so to adds an effortless movement in hair even when your client goes without washing their hair for days. Say hello to texture with hair cut into layers and make your client look the next Rachel from American sitcom Friends. Here are a few texturizing techniques:
Chipping for a smoother finish
Trimming small slices of hair with texturizing scissors when held vertically to the hair's direction will give hair a smoother finish.
Point-cut
After you finish the chipping and need to remove more hair, hold the scissors at a slight right angle to the hair being cut. 
Use a Razor
Razor cutting looks a bit too much compared to using scissors for a haircut. However, this technique cuts your hair in a sliding motion from mid-lengths to the ends. It requires a fluid hand movement to reduce the length and thin out hair moderately.
Weave into M-shape
The weaving technique uses a tail comb to weave through a part of the hair in an alphabet shaped to and fro kind motion. 
Slicing technique
Slicing your hair like butter may sound funny, but it's an ideal technique to cut thick hair. This technique adds volume to the hair and makes hair go from thick to thin. 
Twist the cutting technique
Adding texture to hair is all about hand grip. In this technique, twizzle and turn a few sections of hair and then cut to create texture. This technique is suitable for softening blunt ends and thick hair.
Overall!
Haircutting takes a lot of patience and practice because every haircut needs specific hand movements of scissors. These techniques will help anyone learn the basics of texturizing, whether you bought a barber shear set to cut your hair at home or you are a future hairdresser. Make sure you use the technique in accordance with the type of hair you are working on. And, you are all set to go!